SATO, a global pioneer in the development of auto-ID and labelling solutions today announced that Officeworks, Australia's home for office supplies, furniture, technology and student supplies, has implemented SATO's CL4NX and CT4-LX PDF Direct Print solution at its distribution centres and retail stores.
Established in 1995, Officeworks operates 167 stores nationwide, a website with more than 40,000 products, a national call centre and a business team that helps micro, small and medium-sized businesses start, run and grow.
Every day, Officeworks' distribution centres and retail stores are required to process order data generated from their SAP enterprise resource planning (ERP) system to create and print labels for click-and-collect and customer delivery. In order to enhance efficiency and cater to increasing customer demands, Officeworks sought to simplify this tedious and time-consuming process with help from SATO.
Using a consultative approach, SATO Australia worked closely with Officeworks to understand its current processes and challenges to propose a tailored solution. In moving on to deliver the solution, different SATO teams also made extra efforts to expedite the development of the PDF Direct Print function for CT4-LX, CL4NX and CL4NX Plus, SATO's latest next-generation desktop and industrial printer models.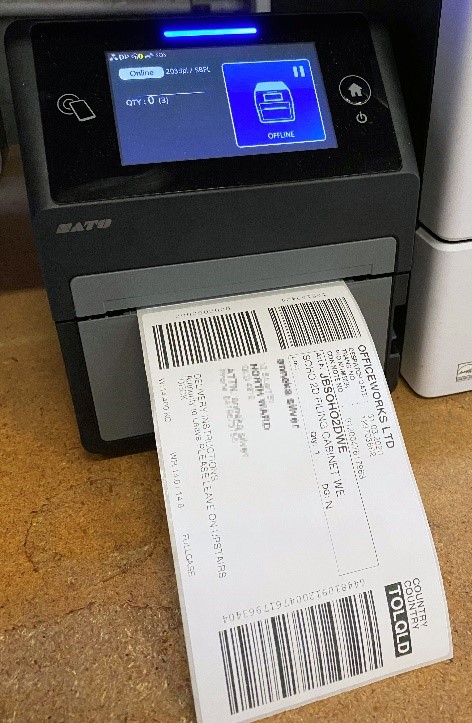 After months of dedication to providing a solution that improves key operations, the solution is now fully rolled out with more than 100 SATO industrial and desktop printers equipped with SATO software deployed at Officeworks' distribution centres and retail stores. Using this solution, Officeworks can now send PDF-based data directly from its SAP ERP system to label printers and print without the need of additional middleware.
This PC-less operation significantly reduces cost, space and manpower required to manage and maintain PCs and peripheral devices. In addition, Officeworks also enjoys productivity gains from a leaner printing process that allows customer orders to be handled more efficiently.
"We are very thankful for the opportunity to work with Officeworks and help them streamline their label printing processes to accelerate order fulfilment. It has been a great collaboration between the two teams and we look forward to the continued partnership with Officeworks to further enhance their operations," commented Chris Powell, Managing Director of SATO Australia Pty. Ltd."SATO's PDF Direct Print solution has enabled Officeworks to significantly speed up our labels design and development, providing us with the agility and speed to respond to evolving business needs in a reliable way and for a lower cost," said Mark Scira, Officeworks' IT Manager Corporate.
About Officeworks
Established 26 years ago in Richmond, Victoria, Officeworks is committed to making bigger things happen for its customers, team, the community and stakeholders. It operates 167 stores across Australia, a website that is home to more than 40,000 products, a national call centre, and a business team that helps micro, small and medium-sized businesses start, run and grow. Officeworks offers customers a wide range of office supplies, technology, furniture, art supplies, education resources and helpful services like print & copy and on-site and remote tech support through Geeks2U – delivering an experience that is easy and engaging, no matter how customers choose to shop. Officeworks is focused on the safety, wellbeing and career progression of the more than 8,000 team members it employs. It's also dedicated to operating in a sustainable manner, including building and maintaining meaningful connections with the communities in which it operates, fundraising for its national partners and local community groups, continuing to reduce its impact on the environment and source responsibly.
About SATO
SATO (TOKYO:6287) is a global auto-ID solutions provider for leading manufacturing, logistics, retail, food & beverage, health care companies. With a bottom-up understanding of on-site use applications, SATO tags items with identifiers to improve supply chain flows of tomorrow by solving managerial and operational challenges of today. An industry pioneer with 80 years of expertise and a 5,400+ strong global workforce in 27 countries, SATO engineers solutions to streamline operations, boost accuracy, support sustainability initiatives, provide assurance and emotional connections, extending value all the way to the consumer. For the fiscal year ending March 31, 2020, it reported revenues of JPY 116,372 million (USD 1.07 billion*). More information about SATO can be found at www.sato-global.com, linkedin and twitter.
*Based on an average exchange rate of 1 US Dollar = 108.69 Japan Yen
 forrás: satoeurope.com 2020.11.30